CLIENT STORIES:
Ariadne's Story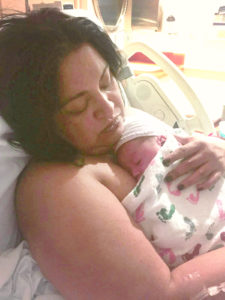 Life is such a precious gift! My baby and I are thankful in so many ways for the opportunity given to us to have each other. She is my world and I wouldn't change a thing of our journey together. Life is not always as easy as it should, we live in a roller coaster world; sometimes we are up sometimes we are down, and those moments when we are falling are scary. Then we realize we need only to gain speed and strength to go back on top, this is easy to accomplish with the help of family, friends and community.
Our story is like many others--- a very happy surprise factor in combination with so many other feelings. Happiness, anxiety and hope are a small example of them. I am a single mother. I felt the pressure of society to get rid of the most wonderful miracle in my life, but I found support in an amazing organization, Pregnancy & Family Resource center in San Bernardino.. I went there to get my first pregnancy test. All the staff treated me so nicely with attention and compassion but most importantly with respect.
I used to work two doors down from the center and saw so many girls walking into the facility, and seeing they were always coming out with a smile on their face. This made it easy for me to feel comfortable. In my first appointment I met a woman who has became a wonderful friend, my advocate, Linda. Who made a great impact in my life, I feel comfort and peacefulness when she is encouraging me to keep pushing forward. She is a God's worker and I'm thankful to have her in my life.
The pregnancy center has provided me with things to help me with my journey as a mother, clothes, wipes, diapers , free ultrasounds, etc. whatever I need if they can they give to me. With the pass of the months it has felt so natural to go to the center. Kathleen's face with a big smile every time I arrive, is a gift. They all take the time to listen and they care. I know this is a non profitable organization that works through donations, I have seen the positive impact that they make on someone's life and when that rollercoaster put me back on top . They will certainly have my support in all the possible ways I can give.
I feel happy and at peace with my decision of becoming a mom. I am a believer in God and I know that my Lord loves me. But feeling my daughter moving and growing inside me showed me His magnificence. Now that she is with me and I see her eyes, her little fingers and toes, her chubby cheeks and her beautiful smile and I am in His presence.